Joined

Jan 18, 2015
Messages

1,700
Reaction score

703
Points

113
Location
Supports

Norwich City
WEEK 25 RESULTS
10/02/15-11/02/15​


Average Score: 24.4
High Score: 44 - SEASHELL
Low Score: 6 - WINTERBUNNY456

True Scenarios: 10/24 - A B C D F G H J K Q

Highest Possible Score: 72 - H J K Q Y (LIV 3-2 TOT) Z (CPA 1-1 NEW)


One week away from breaking a record, so that probably means I'll fail miserably this midweek!
Right he was. After 23 weeks leading the table JUSTINQPR is finally toppled. VEGGIE LEGS moves into first place for the first time since Week 15, Season 6 and opens a fifteen point gap. LEEWILSON too outscores the former leader and moves within 15 points of the top two but a decent score from TOMMYTEZ sees his place under threat with just two points separating them. Top scorer SEASHELL makes up the top five, climbing to within 20 points of the top three.

For the second consecutive week MARKFACE makes up the most ground, this time climbing four places - now just 3 points outside the top ten. TOMMY_B moves to his highest position in three seasons. Going in the other direction TONY CLIFTON, DONTBRINGBERTIE and SIDESHOW BOB all drop three places.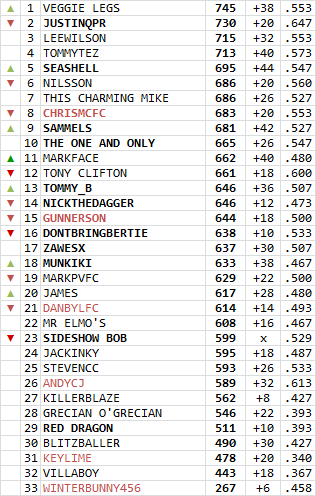 Red = yet to join 1FF / Bold = still in cup (+ wild-cards: ROVERSFAN2001/CARDSFAN/LIU)
​
SELECTIONS