Joined

Jan 17, 2015
Messages

2,835
Reaction score

738
Points

113
Supports

Universitario, Napoli
Hello everyone
While I may not be a master at the Football Manager games, one skill I really excel at is finding young players who can become great. I'm not the best at finding the best wonderkids in FM, although I know quite a few and I can create a list for it, but I am quite good at finding the best young Regens.
Before anyone ask's, I am not expert on youth development so do not ask me on that front. I simply do not know a ton on youth development. This list will be simply for finding those players who can develop into something good.
Anyway's lets begin with the first, and easiest but nowhere near the best option. I will be using Manchester City to make this guide. It is currently 2024. I got this far because I've been playing forever with Tubize.
You must know firstly if you want to find great regens, it won't be easy and will be very time consuming. If you are in a European League, I'll go ahead and say the English, German, Italian, Spanish, and French League's as those are the league's I'm guessing you'll be playing in, I recommend begin looking for regens in April. All those leagues should have generated new players by at latest march. Also, North America usually generates players in February except for the MLS. Africa in October. Its a good time to begin looking for players in your first season as remember you will need to scout them for a long time. You don't want to start in your pre-season as then you aren't guaranteed to receive the final scout report at the end of the Transfer Window.
I'll go on with the regen dates later on, but here is the first way to find Regens.
Click on the scouting option which is the magnifying glass at the side.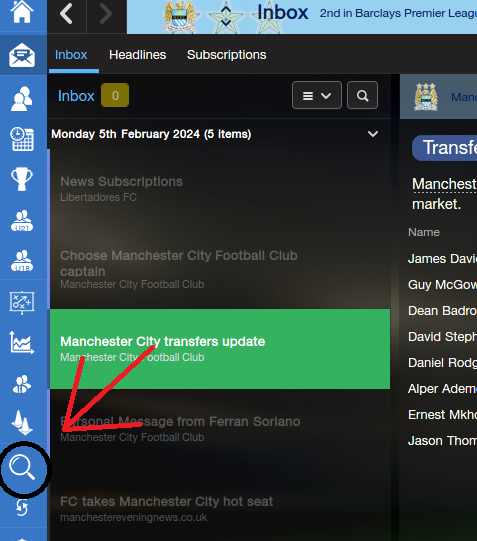 It will take you to this screen.
Now I am not 100% familiar with this screen as this is not my primary way of scouting for young regens. However, there are several things you can do here.
First thing is the most obvious. Beside quicksearch is a drop down box, click on it and the first option you will see is Age.
Then one of your options to search for players is finding them depending on their age.
Now if you're a smaller club, then I seriously don't recommend this method. If you're a big club like Manchester City, its useful. The reason why if you're a smaller club is because, then they're all not very good really. You can scout all of them, and you may find a few standout players, but for the most part they aren't very good. Your best bet with a smaller club to use this method is turn off realistic transfers and hope that a good player will want to join your club.
Anyways, the next method is on the same screen, however select the drop down box again, and select "contract status" and select "expired"
Then I'd recommend you scout every single player you can. This is especially recommended if you're a smaller club. However, again there is better ways, it's just "especially" recommended if you want to use this method.
Lastly, this method could be good if you want to pick out the specific attributes you are looking for by click the "pick" box. However, the next few methods are much better.
Next method depends on having a specific skin. Skins can be downloaded from other Football Manager sites. You can't use the default FM skin.
Next method is simple. Simply go to any club and you'll see a "hot prospect" under key employees.
Again, this is only for those with specific skins. This won't be a "download a skin" tutorial, but most websites have a tutorial to download skins. Really isn't difficult at all to do.
Next method is a very, very useful one. I don't use this THAT often, but I highly recommend you do this.
Click on the earth icon beside the magnifying glass and the calender at the top. You will see this.
Click on any nation. We'll click on England.
Now click on one of the youth squads, and you'll get a list of players. Then when you're there, click on the arrows at the top. Either up or down. They look like this.
They will take you to other nations of the continent. The best way to do this is to simply scout every single player in those youth teams. Now, if you are scouting the stronger nations like England, most of their young players will be playing for the youth teams, however if you are scouting a nation who isn't very good at football, then their players will likely show up in the senior squad. There may still be players in the youth squad so still scout those, but they will likely already be playing for their main team. Same can be said about the nations who's database you haven't loaded. This could be done with Clubs as well, but you'll find better players using the national teams.
In my opinion, this is the second best way to scout for regens, but we're moving on now to the method I use, and recommend the most.
Go back to the earth icon where you see all the nations. This time click on "world" at the very left. If "world" doesn't show up, click on a continent, and it will then show up.
Then click on transfers at the top.
It will take you here. There is a drop down box there, click on it.
You will get several options, but the one you'll be looking for is Youth Intake.
Then you have all the youth intake's ever generated from the beginning of your save.
We aren't done yet. There is several things you can do with this. First thing you need to do is pay attention to the youth intake days. There aren't "fixed" youth intake dates like there was in the previous Football Manager, but most players are generated close to a specific month of their nations. For example, Colombian regens will always be generated in a random day in January. England and France could be in February, but most likely in March. 90% of African regens will be generated in October. The exception to that is South Africa. The 4 nations in South America that aren't playable will have their regens generated in June or July. These nations are Paraguay, Bolivia, Venezuela, and Ecuador. Lastly, Argentina and Brazil are usually in August and September.
Anyways, I won't be listing all the intake days, but that should be useful information when looking for regens through this method. Now, if you want a quick preview of the players stats and value's without looking at their profile, click on the "i" beside the players names.

It can become extremely tedious to keep going back and forth between player profile's, so if you want a mini preview, click on the "i" beside their name.
There are a lot of regens generated this way so if you want (especially in March) to scout all the regens on the screen, best thing to do is click on the mini preview of the players as shown above to see who is the most worth it. Sometimes the players won't have their attributes shown, that's when you must go to their profile if you are curious on the player.
Lastly, if you are a smaller club, a very useful way to look for good regens is to go back a few years in the "youth intake" screen, and keep looking for players until you find one that was released by their club. I recommend doing this as soon as in 2018. Every year, players are released at the end of their contract.
If you are a smaller club and you want Argentinians, Brazilians, and Europeans who are all generally quite expensive, finding players on a free will be your best bet. When I was with Tubize, I used this method to get a few players I'd never expect to buy on my own. You can often find very good players released from Argentina, Brazil, and parts of Europe. If you are a top division English club, this may not be the best method because you'll often have a good budget, but if you want a large quantity of good players, its recommended.
So that's really all here. Hope you enjoyed reading, and I hope this helps you out.